What is Odessa Apartments?
We are a leading short and long rental accommodation company in Odessa Ukraine.
Company Facts:
Company name: Odessa Apartments Inc.
Formed: June 2001
Number of apartments in our database: 289
Number of employees: 9
Founded:
Arik Shtern founded the company after living in United States for almost 20 years. "As an Odessa native, growing up in Odessa and seeing it transform from a bare Soviet resort city with dismal tourist infrastructure into a wonderful destination it is today is a fantastic feeling. Numerous visits back to Odessa in the late 1990s have prompted me to start the company as I found hotel prices to be exuberant and offering mediocre services, while the short term apartment rentals offered incredible value with absolutely central location. They sold themselves, yet the agencies offering them lacked professionalism and ethics required for any high quality business.
Status:
Odessa Apartments is an incorporated entity in the state of New York (United States) and in Ukraine. Dealing with us eliminates any risk that exists when you choose one of the many rental agencies that exist solely on the web. Our licenses are shown below and are also displayed in our office. (Click to enlarge).
New York State Corporation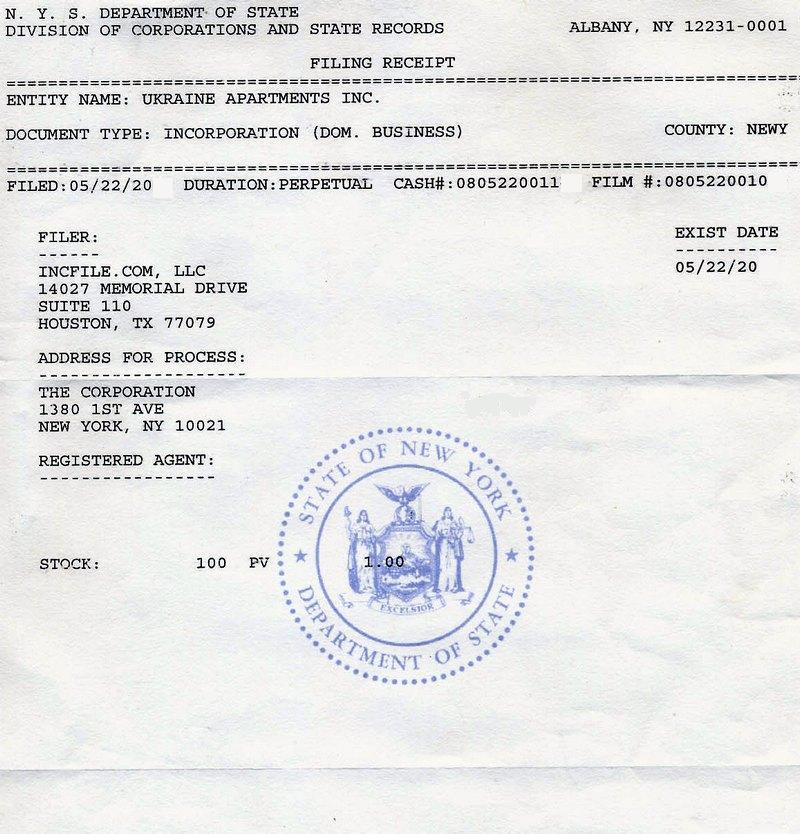 Ukrainian License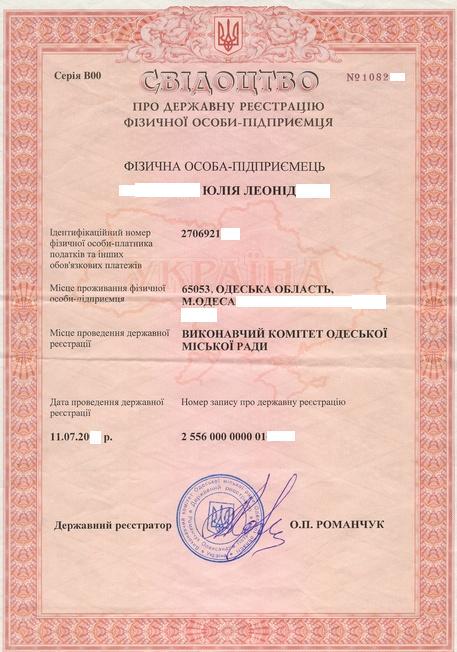 For security reasons, certain sensitive information from the corporation documents above has been blocked. All original copies are held in our office.
What we offer:
Exclusive selection of high quality apartments in the very center of Odessa.
Lowest prices guarantee for any apartment that we features.
Additional services such as Airport transfers, interpreters, VIP Airport pickup, city tours, cell phone rentals and much more.
Property management services.
Advantages you get by choosing us:
Office of the company located in the very center of Odessa (Grecheskaya Square – Afina Center right off Deribasovskaya Street) .
All of our Odessa apartments come completely furnished with all the essentials of a hotel room, including maid service, clean linens, towels, etc.
All of our Odessa apartments features basic home appliances, including but not limited to refrigerator, Air Conditioner, TV, DVD/CD Players, telephone, washing machine, ironing equipment, etc. Luxury units include Jacuzzi, Saunas, Personal Computers, outdoor patios and other.
All of our Odessa apartments are located in the very center of Odessa. Every downtown attraction is located within walking distance of your apartment.
All of our Odessa Apartments offer luxury of privacy. It is often difficult to find privacy and flexibility inside a Hotel. Staying at one of our Odessa Apartments assures you will not disturbed. This is especially important if you are planning a wild vacation or a romance trip.
Our Odessa apartments cost up to 75% cheaper than Hotel rooms of equivalent standard. Why is this the case?
Our Odessa Apartments offer you a place to call your home while in Odessa - we think this is very important for today's travelers who want much more than just a room to sleep in.
Our mission statement:
Our promise is to make your stay in Odessa as safe and as comfortable as possible. Moreover, if there is any Odessa related question or service that you need help with, like Odessa long term Rentals please do not hesitate to ask. Chances are we will be able to help. By providing a great product and outstanding service to our guests, they return year after year and recommend us to family and friends.
Corporate Clients:
Ernst & Young
Austrian Embassy
Lockheed Martin
Leavitt Institute
Snapple
Norway Embassy
German Embassy
Swiss Embassy
Swiss Chamber of Commerce
NATO
Raiffeisen Bank Aval
Odessa Apartments Inc Today:
Since 2001, Odessa Apartments Company has provided comfortable accommodations for over 7,000 clients. Today, we are Odessa's leading accommodation firm providing a wide array of rental services for both short and long term requests along with various other related services.
Our Employees:
Arik Shtern
Director & Founder. Fluent: English, Russian with us since: 2001
Arik spent his childhood and most of teen aged years growing up in Ukraine under USSR in the coastal city of Odessa. Immigrating to United States at the age of 15 has allowed him to finish University of Connecticut with a focus in Business & Finance. Having a perfect mix of 'Russian' & 'American' mentality makes Arik an ideal person to solicit for general advice or alternatively he will be happy to genuinely recommend the best apartment for your stay and glad to point out any pros and cons of a specific apartment you choose. Arik is passionate about this business and hopes his passion translates into the quality of our services and products..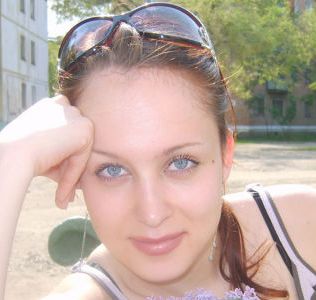 Julia Kisimova
Director & Founder. Fluent: English, Russian, Ukrainian with us since: 2001
Many years of experience in hospitality business make Julia the perfect person for your accommodations needs in Odessa. Her years of experience working at a reception desk at a major Odessa hotel, will assure you receive quality professional service on your inquiry, either by phone or email. Julia also has extensive experience in translations from English to Russian and her general willingness to help people and dedication to work is simply superb. Julia is an Odessa native and will be glad to give you her personal recommendations for restaurants, nightclubs or anything else.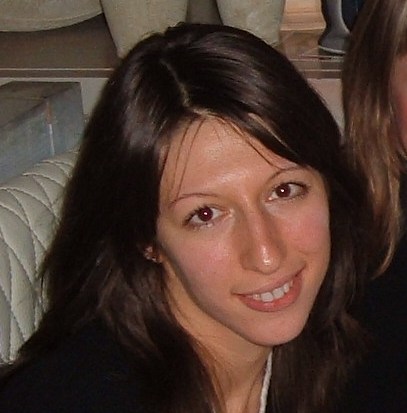 Anna Gordik
Accommodations Manager. Fluent: English, Russian, Ukrainian with us since: 2007
Anna is a wonderful person to meet during your stay in Kiev and chances are you will meet her, either at your check in or at our office. Anna is an expert in the accommodations business, having helped numerous Westerners find their perfect accommodation while in Kiev. She is in charge of long term rental program and promises will do everything in her ability to provide you with the highest quality of service.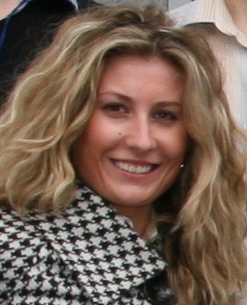 Zina Kikot
Accommodations Manager. Fluent: English, Russian, Ukrainian with us since: 2009
Zina's goal is to assist you with any questions you may have about your accommodation along with giving you an extra advice, bet it the best nightclub in the area or just a perfect restaurants for that special romantic occasion. Zina assists clients either at their check in to the apartments or via our 'Live Chat' function when she is at the office. She also answers some of the mail and is confident her professionalism will exceed all expectations.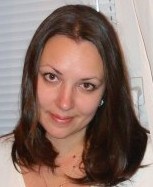 Maria Oksenko
Booking Manager. Fluent: English, Russian, Ukrainian with us since: 2007
Maria's job is to assist with all electronic and phone inquiries and to back up Anna during busy check in times. She does a wonderful job multitasking and is able to provide you with the exact answer to your inquiry very quickly. Lots and lots of positive feedback assure us that Maria indeed does a wonderful job in this regard.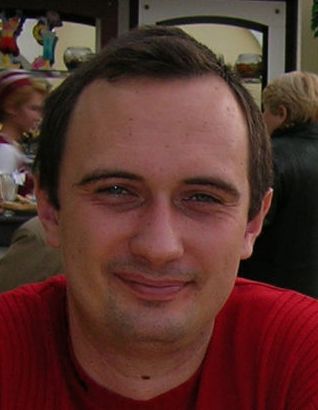 Vladimir
Logistics Manager & Driver. Fluent: Russian, Ukrainian and limited English with us since: 2002
Vladimir, or Vlad for short is typically the first smiling face you see when you land in Odessa. He is one of our three drivers and he is the ones that arranges all pickups and departure rides. Vlad is an excellent driver, knowing all the 'shortcuts' in Odessa and will always get you to your accommodation safely and smoothly. He is also more than eager to help with your bags or trip to another town.