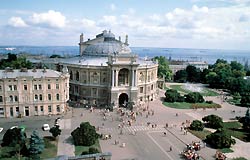 As Odessa Hotels are becoming increasingly expensive and lack the quality with which Western tourists are accustomed we offer a fantastic alternative in the form of centrally located Odessa apartments. Please read on to see why staying at an apartment for rent provided by us is a great way to enjoy everything Odessa has to offer. We understand what todays travelers are looking for on a trip. That is why we designed our Odessa Apartments just for them. Our apartments accommodations are a cheaper and more convenient alternative to inefficient and expensive Odessa hotels. All of our Odessa apartments for rent are centrally located, offering higher quality of rooms with full kitchens, wider range of services, lower prices and full privacy. Plus, if your booking is for 5 nights or longer we would be pleased to provide you with complimentary airport pickup. 100% Free.
PRICE MATCH GUARANTEE If you find the same exact apartment at a cheaper price elsewhere - simply show it to us. We will match the price! *some restrictions apply
All Odessa apartments we offer come completely furnished supplied with all essentials of a hotel room. Apartments are supplied with maid service, clean linen and towels. All basic home appliances including refrigerator, TV, AC, telephone and iron are available in ALL apartments. Some of the more luxurious apartments are equipped with appliances such as Washing Machine, VCR, CD Player, Dishwasher, Microwave, Fireplace, Jacuzzi, etc. All of our Odessa apartments are wired with a land line which can be used for dial up Internet access. Units with cable connection are also available.
All Odessa apartments we offer are located in the very center of Odessa. Every Odessa downtown attraction is within walking istance of your apartment.
All Odessa apartments we offer come without any intermediaries, thus there are no extra commission fees added to the base price. Plus, a number of Odessa apartments we offer are exclusives and won't be found on any other web site.
Renting in Odessa long term? Please allow us in assisting you with your search if you are expect your stay in Odessa to exceed three months. We will provide you with direct access to local renter's market so you do not have to pay outrageous foreigner markups. Largest inventory at the most optimal price - Guaranteed.
Five reasons to book our Odessa apartment
Up to 75% cheaper than hotel rooms of equivalent standard
The rates you pay for a hotel room in Odessa are often inflated due to the high running costs of hotels. In-house services such as restaurants and bars incur high wage bills. Generally the running costs of the apartments are far lower and this is reflected in the price. Additionally, apartments offer further savings due to their flexibility - for example, when staying in a hotel, you often have to bear the potentially very expensive cost of eating in restaurants. With a serviced apartment in Odessa you will have your own kitchen, so that you may - if you wish - prepare your own meals with food bought from grocery stores or local supermarkets.
The luxury of Location
All of our apartments are located directly in the heart of Odessas Historical Center. This means that every historic Odessa attraction in the center of the city is just a few minutes walk away.
The luxury of privacy
The things that are hard to find in Odessa hotels are privacy and flexibility. Staying at one of our Odessa Apartments, assures you will not be disturbed. This is especially important if you are planning a wild vacation or romance trip to Odessa.
Stay 1 night or several months
Whether you are in Odessa on business or leisure, you may choose to stay just one night, several nights, weeks or months, as you require. Odessa's charm has been known to force tourists to extend their vacations indefinitely.
A place to live, not just to sleep
The apartments offer you a place to call your 'home' while in Odessa - we think this is very important to today's travelers who want much more than just a room with a bed in it.