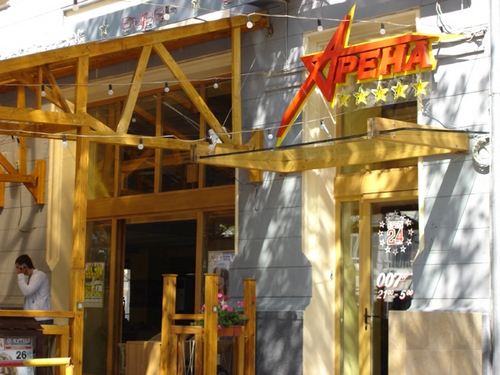 The Scene
Arena has spared no expense to bring back the party to the center of Odessa, with a custom-made DJ booth and superior sound system. The club / restaurant features a fine European menu and can be adapted for parties up to 400 people, or up to 100 people for a sit-down dinner. The space features a large outdoor patio which is a great place to people watch while sipping on a glass of wine or enjoying a meal. Inside two levels await the eager patrons, filled with Plasma TVs which seem to focus on sports and fashion. Everyone knows those two go hand in hand. The downstairs area also features a tasteful strip club in the unlikely case you and your date get bored. No date? No problem, as Arena boasts one of the highest female to male ratios of any central Odessa night venue.
Bar/Club Info: 12 Lanzheronovskaya / Ekaterinisnakaya
Tel: 41-14-12
Hours:
Payment:
Atmospheres:
Restaraunt
Late Night Scene
Specialty-Cocktails
Show
Dancing
Striptease
Admission: $5
Verdict
This new Odessa lounge / club / restaurant fills a void with its high tech interiors and colorful clientele. Two thumbs up.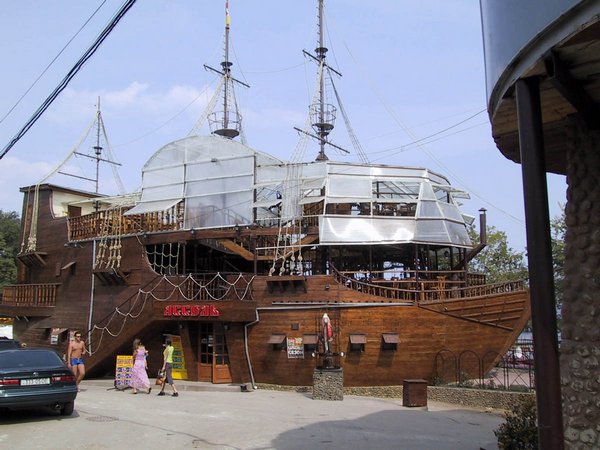 The Scene
While the name of this ship décor configured club can be taken to mean something ambiguous in English – by no means does it impact the club's ability to bring in good crowds for its atmosphere and great sea food, some of which is straight from Odessa's coastal black sea. Assol is situated at the end of the Arcadia strip, slightly north of Ibiza (which is very hard to miss). Even if you choose not go inside, it is worth checking out this impressive exterior from outside. The staff here appropriately dresses the part, usually that of a pirate or a sailor. Music here is slightly more festive than the rest of the clubs in Arkadia, typically playing Russian and Euro Pop exclusively. Assol packs many tourists but because of its exquisite sea food it is also a favorite among locals. This is an ideal place to have a late dinner and subsequently work off the calories on the dance floor. Make sure to come here on a weekend as it is usually fairly empty on weeknights.
Bar/Club Info: Odessa Arkadia Beach
Tel: 746-66-33
Hours: 9pm – Last Cust.
Payment:
Atmospheres:
Late Night Scene
Dancing
Great Food
Romantic
Admission: $3
Verdict
Assol makes a nice break from typical nightlife experience with its appropriate theme, great music and superb food.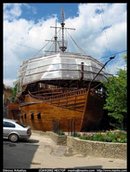 The Scene
Imagine yourself at a club where Miami meets Odessa circa 1995. Grab a drink or two, unbutton your shirt and pretend you are in the tropics. The main attraction here is the sizzling Latin music which includes Salsa, Bachata, Meringue, Reggaeton and Cumbia. Breath the air filled with Cubin cigar smoke and take in a live band (check the schedule) but in any case, come prepared to have fun. The space itself is simple, yet reflects the Latin flavors. Simple couches and chairs with plenty of space available even on nights that are packed. You can even try arranging for a private lesson, that is if you can actually find a Salsa teacher, which should be available on the dance floor at various times. Located in the center of the city, just one block away from Yo, this can make for a nice evening of something out of the ordinary.
Bar/Club Info: 15 Bunina St
Tel: 785-55-75
Hours: 9pm – Last Cust.
Payment: Cash Only
Atmospheres:
Late Night Scene
Romantic
Dancing
Admission: $3
Verdict
Great drinks, fantastic music and simple decor make this a must visit for any lovers of Latin music.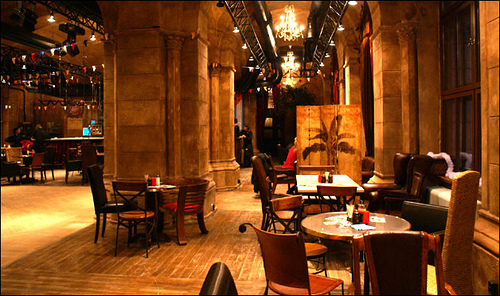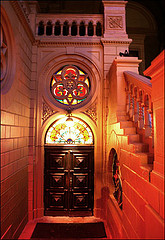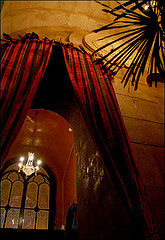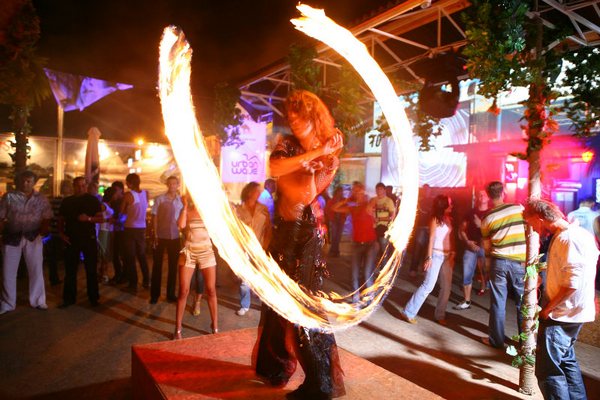 The Scene
With inspiration from Nikki Beach Club in Miami comes Odessas version, which of course is bigger, better and sexier. Well, perhaps not quiet but it is a great try and change of scenery from Arkadia nightclubs. Located at the Riviera Beach in Odessa (13th Fontana) this club is half inside half outside and features numerous themed parties along with great weeknight evenings to just chill out with your friends. With decor consisting of natural wood and white fabric, alongside water, Bounty nightclub offers plenty for everyone. One can order light food, or go for the strong drinks, which the bartenders are eager to prepare. The party gets going late, so be prepared for the place to be fairly empty even at midnight. The club is open only during the summer season, it often features various themed parties such as The White Party when everyone MUST wear white to get inside and other similar events. There are also various well-known local DJs, which perform at the club on weekly basis. Bounty also employs a Saxophone and Drums players who will gladly come out late at night to show off their stuff outside along the beach. Bounty also features a number of in-house dancers, who seemingly dance all night without taking a single break. The music is typically House or other variations of electronic music such as light techno and similar. However, some nights you may hear some Russian pop but it is rare. The clientele is mixed, made u p mostly of students, some young professionals and a little bit of everything else. Bounty is a popular place for post Arkadia crowd who have had enough of Ibiza an are looking for a less crowded bar. In any case, the dcor is wonderful, the hammocks along can relieve considerable stress. The service leaves a bit to be desired, but overall better than average for Ukraine.
Bar/Club Info: 13th Fontana Station
Tel: 612-84-82
Hours: 11pm – Last.
Payment: Cash Only
Atmospheres:
Late Night Scene
Specialty Cocktails
DJs
Live Music
Admission: Free,Cover on Some nights
Verdict
Bounty is a new club, with lots to offer. Its location is a bit further than Arkadia and if you get sick of the Ibiza / Itaka scene you can take a breather at this new happening club.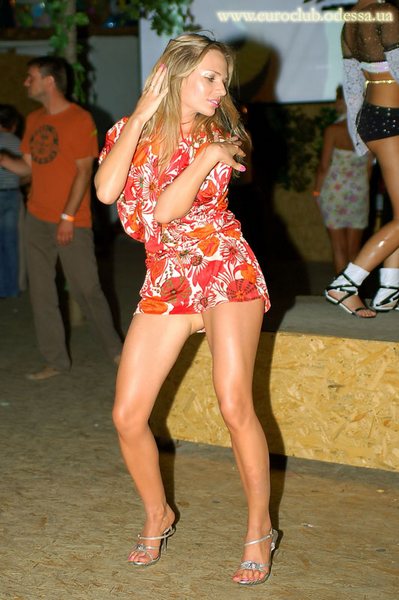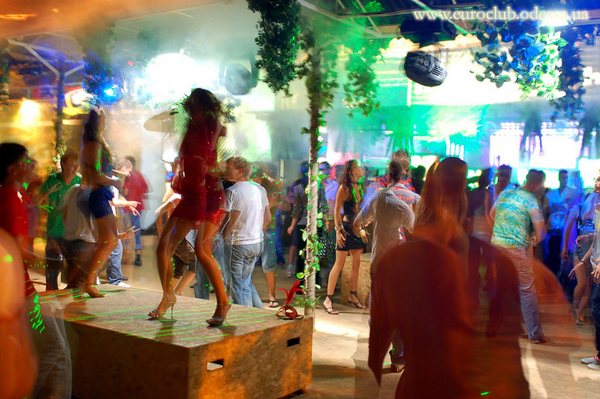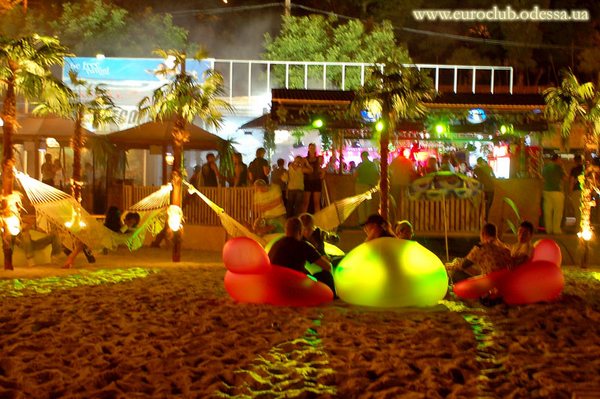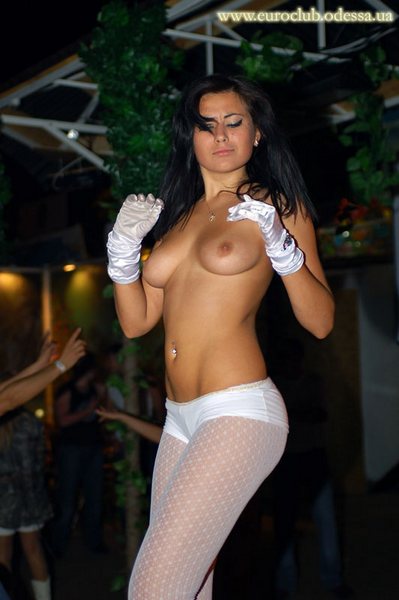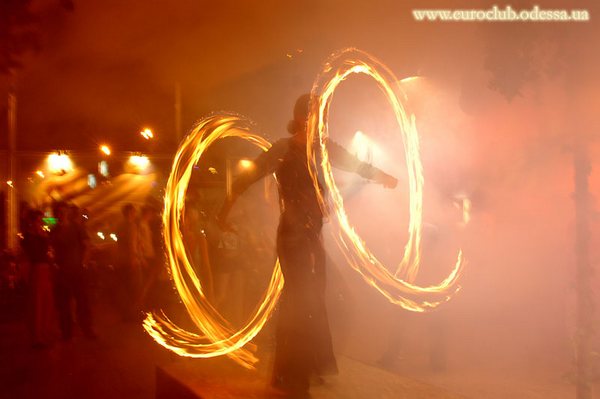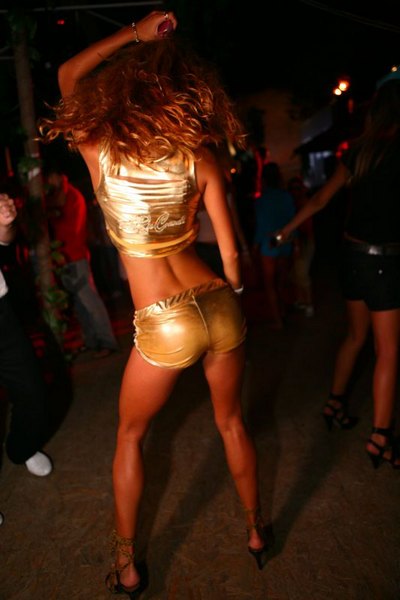 The Scene
Once you bypass the door staff, and entryway constructed literally of cinderblocks, pat yourself on the back for being cool enough to do so, and join the crowd of Odessa A-listers, well-connected, gorgeous party-goers. Step in line, and parade around the perimeter of an impossibly crowded room (weekends only). Even though you won't find a conventional dance floor at this Odessa nightspot, the DJs mix up a spastic concoction of hip-hop, interspersed with samples of House Beats to Michael Jackson. Reserve a table and come early, because by the time midnight rolls around, you won't be able to appreciate the post-modern originally inspired space, let alone find a spot to artistically arrange your Armani-clad booty.
Bar/Club Info: 30 Zhukovskovo
Tel: 728-84-82
Hours: 9pm – Last.
Payment: Cash Only
Atmospheres:
Late Night Scene
Specialty Cocktails
Food
Live Music
Admission: Free
Verdict
Convenient downtown location, great food and music make this a perfect spot for any evening in Odessa both in summer and winter time.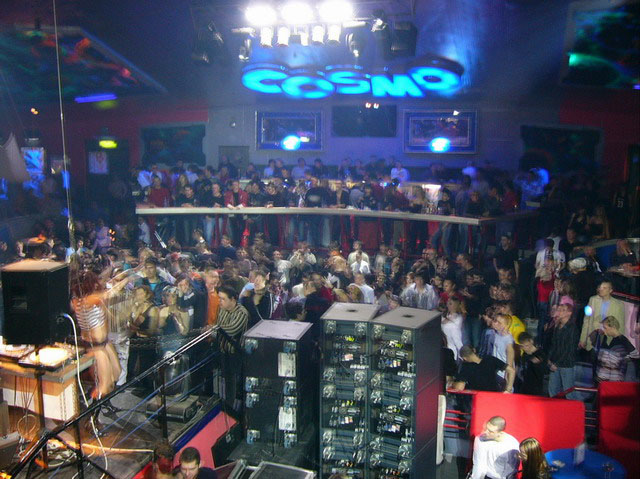 The Scene
This massive nightclub can be seen on the left side of the approach to Arkadia. Cosmo or Kosmos as some people would spell it, sits in a large round building on top of a hill at Arkadia's footsteps. This venue boasts to have more space for dancing than any other Odessa nightclub - a difficult feat! Capacity of Cosmo is excess of 1000 people, numbers which are not unusual to see here. Two bars, VIP bars, two floors and VIP section of the dance floor allow for large numbers of patrons to move inside the clue comfortably. This is not the case on nights when headline DJs put on performances. Cosmo is also home to Odessa's most advanced sound and light system. Be prepared to feel the base while waiting in line to get indoors. Cosmo has been functioning under one name or another for the past ten years, and is a consistent hit with Odessa's electronic music enthusiasts. Crowds tend to be on the younger side, but this largely depends on the performing DJ of the night which range from House, Techno, R&B and Drum & Base. Cosmo's cover is about 15 hr ($3) and a beer is 10 hr ($2). The second floor is the best attraction with an awesome view of the dance floor and high density of gorgeous girls. There is a small bar in the corner but don't expect your bartender to speak English, know what you want and point to it. The girl-guy ratio is fairly un-even and attractive even by Odessa's standards. However, a night at Cosmo wouldn't be complete without some fall down drunken / drugged chick being carried down the stairs.
Bar/Club Info: Gagarinkovo Plato (Arkadia)
Tel: 68-82-04
Hours: Frid / Sat 10pm
Payment: Cash Only
Atmospheres:
Late Night Scene
Dancing
Specialty Cocktails
DJ
Admission: $3
Verdict
If you like electoronic music and serious dancing - this is the place in Odessa for you. Otherwise, very young crowd and lack of food make other nightlife options in Odessa a better selection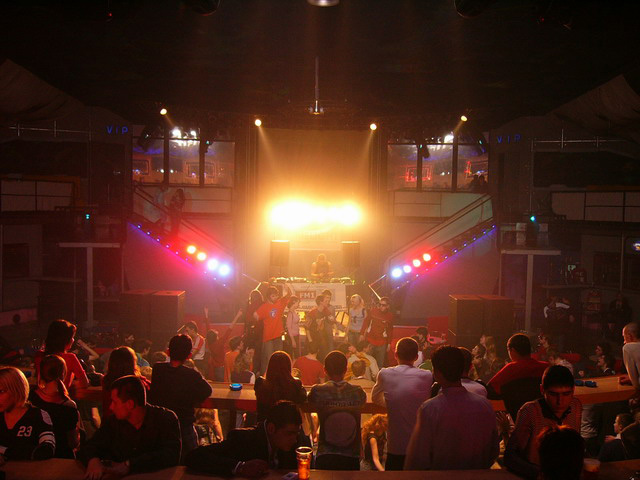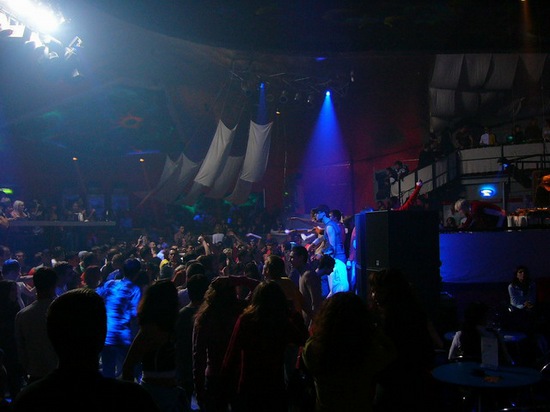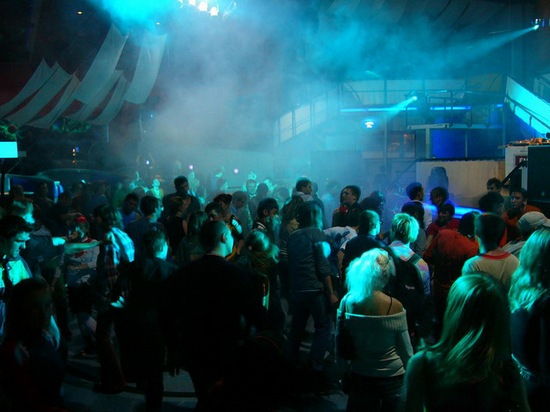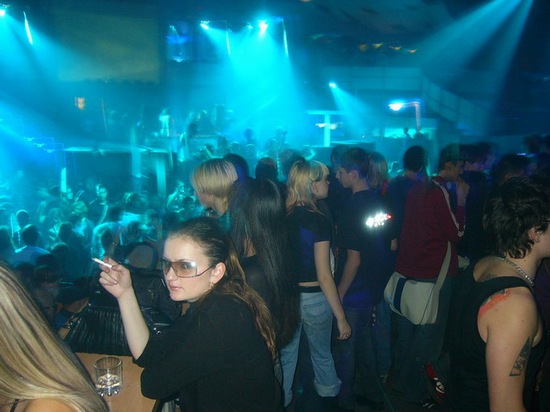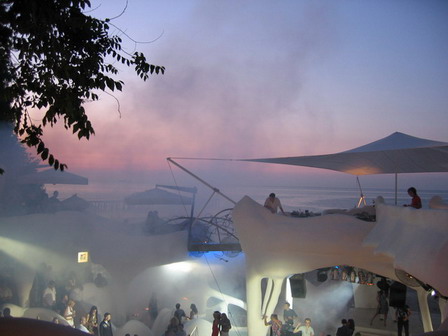 The Scene
Welcome to Odessa's best summer nightlife experience and quiet possibly the best club in the world. Bold statement acknowledged, but once you party at Odessa's Ukrainian Ibiza you will also see it rivals many clubs, even the ones located on the famous Island of which the name of this Odessa nightclub borrowed. Shaped like an ant hill and entirely outdoors on the beach, this Odessa nightclub boasts numerous bars, seating for over 100, massive stage, multiple TVs and one jam packed dance floor. Ibiza is located directly in the middle of Odessa's Arkadia strip, entirely outdoors and about 100 meters away from the Black Sea. The interiors, while as mentioned is shaped like a massive ant hill, has a very clean look to it, as the walls of the structure are all painted in white. Odessa's Ibiza is home to some of Europe's well known DJs, who frequently come to Odessa and make their rounds through this wonderful club. Although one does not need to be famous to feel famous at Odessa's Ibiza. All one simply has to do is turn on Odessa's channel 29 (on Odessa's cable system) and watch live and repeated broadcasts straight from Ibiza. There are multiple camera operators hidden in the club, so think twice before having that next mojiuto here! While privacy may questionably be at stake, fun is not. Hundreds of patrons visit Ibiza nightly, most to do nothing but relax, listen to music and dance as it provides probably the most perfect setting to do so while in Odessa. Unlike neighboring Itaka, this club plays exclusively house and techno. Drinks are served with enthusiasm and are surprisingly cheap on a comparison basis. Ibiza's crowd reflects that of Odessa's general population. It is a big mix of tourists, locals, electronic music enthusiasts and some of the most beautiful club dancers Odessa and probably rest of Ukraine has to offer. On any given weekend Ibiza will have a dozen or so dancers around the club, hyping up the music and dancing relentlessly. It is a sight not to miss. Many Pop shows take place also in Ibiza; make sure to check their schedule for upcoming acts. Also, make sure to make a reservation for a table in advance and in person, as they are not taken over the phone at this Odessa nightclub.
Bar/Club Info: Arkadia
Tel: 777-0205
Hours: 9pm – Last Cust.
Payment: Cash Only
Atmospheres:
Late Night Scene
Specialty Cocktails
Dancing
Admission: $4
Verdict
This is our favorite club in Odessa Ukraine and will be yours as well after just one visit. We have numerous Arkadia apartments located only minutes away from this amazing nightclub.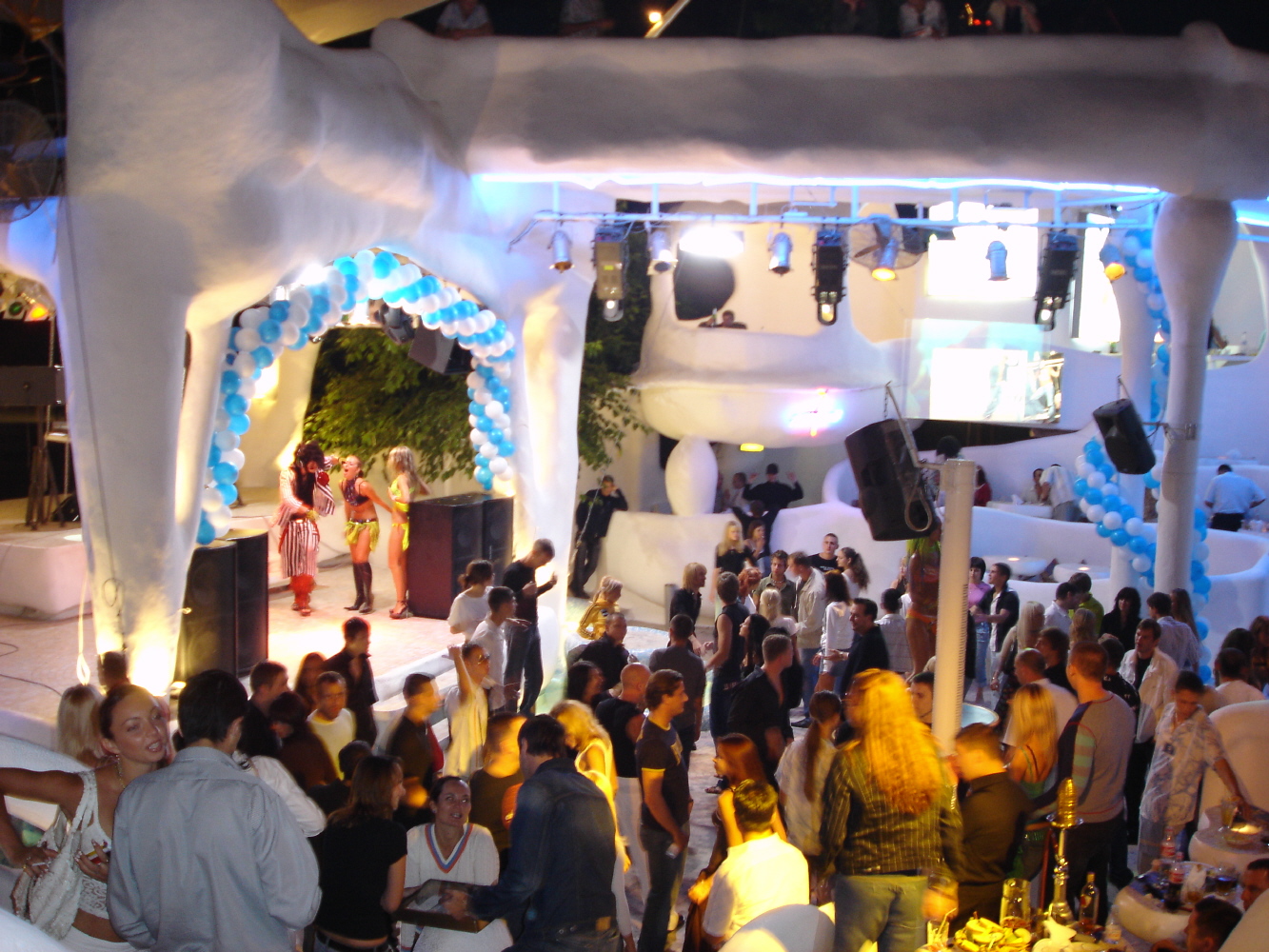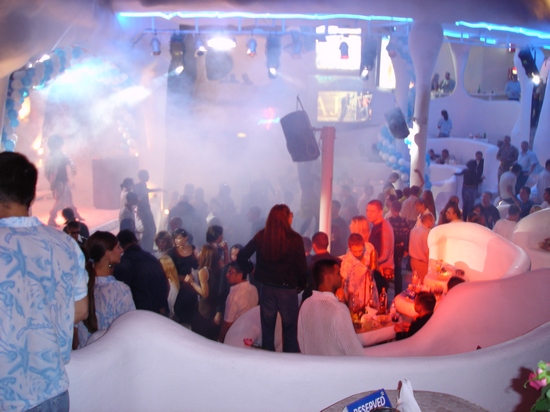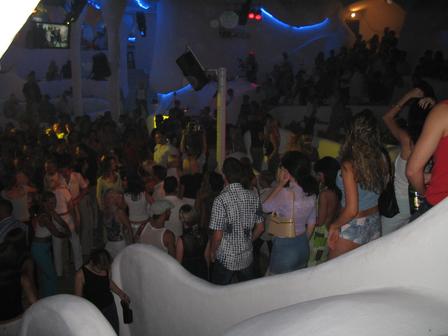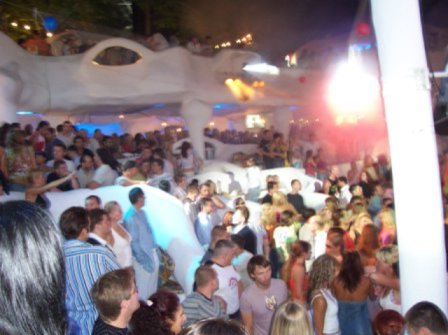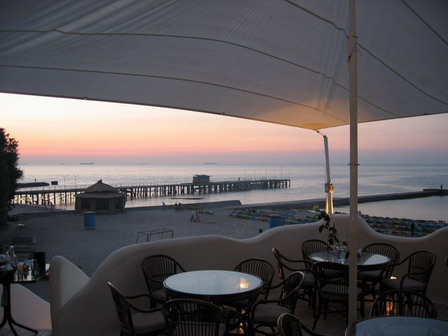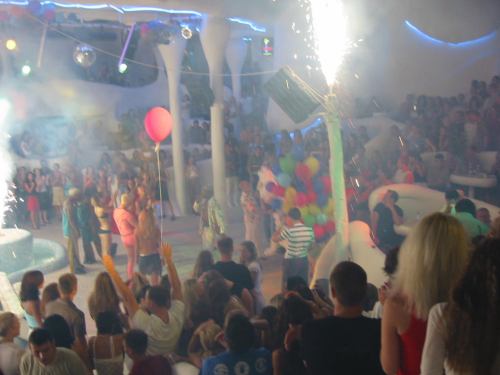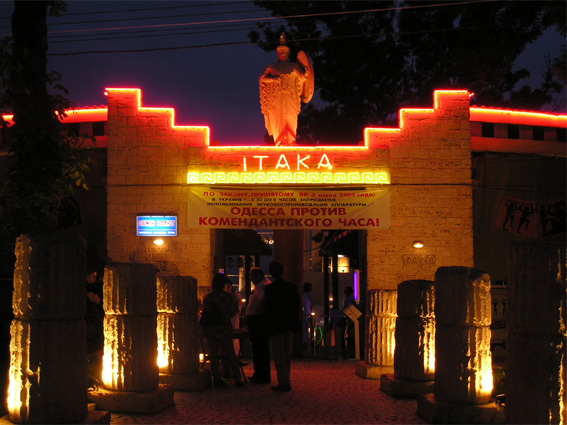 The Scene
Along with Ibiza, this is the best nightlife experience Odessa and the rest of Ukraine can offer during its raging summer. Designed in the style of Greek ruins, this massive Odessa nightclub boasts an enormous dance floor, spectacular stage, massive pillars overlooking Black Sea, seating for over 200 people, one long bar and hundreds of mesmerized dancing patrons. Each night is kicked off with a bang through a spectacular show (usually at midnight) which is a must see for anyone in Odessa. Different nightly show is there to keep you coming back. Expect to see anything from a sensual strip tease to a multi troop acrobatic performance. Odessa's Itaka has various options for sitting, with prime seats being leveled next to the stage and the rest either on the 2nd floor or along side of the bar by the dance floor. It is suggested to make reservations for prime sitting space. Every week or so during the summer, Itaka is home to performances by Russian and Ukrainian superstars making their visit through Odessa. Check Itaka's website to see the schedule. Service at Itaka is marginal, yet there is considerable room for improvement as the waiters cater to dozens of tables at a time. Menus here can give most restaurants a run for its money. At Itaka you can order anything from full entrees to hookahs filled with milk here. Itaka's crowd is diverse as Odessa's population; Western tourists, Russian tourists, drop dead gorgeous girls in mini skirts, little kids and their parents and a massive number of staff workers wearing nothing but traditional togas. It is hard to think of a place where one can make friends as easily as at Odessa's Itaka, especially with the help of some exotic alcoholic beverages that the bubbly bartenders are happy to serve. The only con, if it can be called that, is the music. Itaka plays almost exclusively pop, with same songs repeating numerously every night.
Bar/Club Info: Arkadia
Tel: 34-91-88
Hours: 11am – Last Cust.
Payment: Cash Only
Atmospheres:
Late Night Scene
Specialty Cocktails
Touristy
Beautiful People
Dancing
Live Music
Shows
Romantic
Admission: $4-$8
Verdict
Never mind the music, if you are in Odessa do yourself a favor and come to Itaka. Chances are - you won't leave before the sunrise.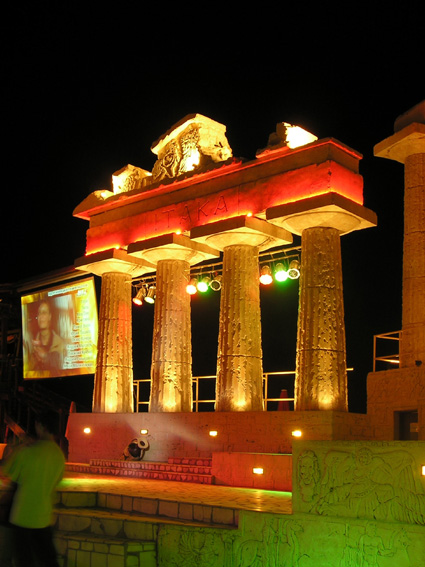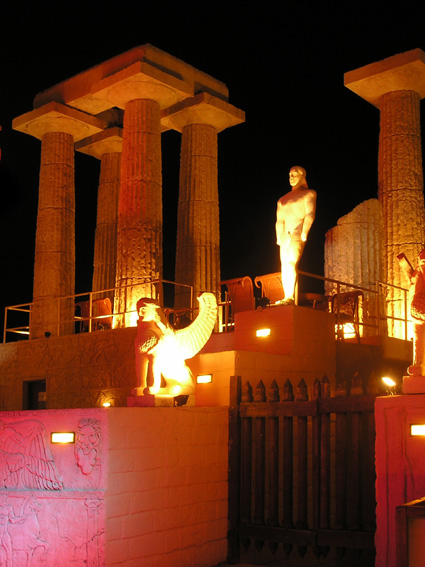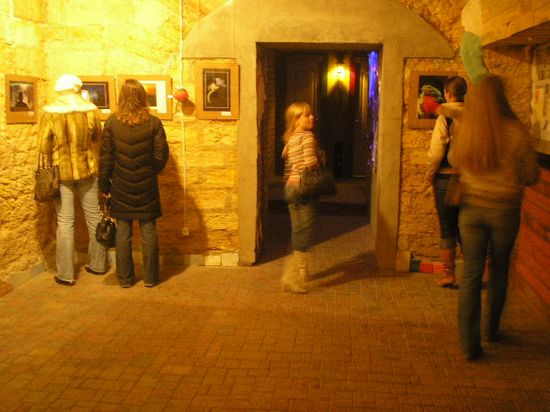 The Scene
Depending on your tolerance for Odess'as newly rich, slick intellectuals, geezed up mini moguls and husband-hunting lil' young things, you will either flock to eccentric Exit lounge or run screaming. Defiantly euro, with a heavy artsy flavor, Art Club Exit is unique and in its own category in Odessa's vast nightlife. Opened in the winter of 2006, this central Odessa lounge features five room space with multiple bars can host parties or allow for a group to have a great time without any hassles. Various rooms, allow for mini art exhibitions, live music performances, film screeinings and poetry reading. The lounge also serves as a restaraunts, serving a menu of sandwiches, pizzas and various appetizers. Drinks and food are suprisingly good, and there is a wide array of beers on the tab menu. Music, depending on the night ranges from Techno, Hip Hop, House and International Pop. Live performances are typically those of Jazz and Rock. Check Exit's schedule to see their line up as different evenings feature literature nights, concerts, exhibitions and various other events. Maximum capacity is 200, helping in keeping an overall intimate vibe.
Bar/Club Info: 24 Bunina
Tel: 728-14-40
Hours: 8pm – last customer
Payment:
Atmospheres:
Late Night
Art
Specialty Cocktails
Touristy
Beautiful People
Dancing
Live Music
Shows
Romantic
Admission: Varies
Verdict
Any art enthusiast will have a wonderful time at this out of the ordinary Odessa lounge. Highly recommended.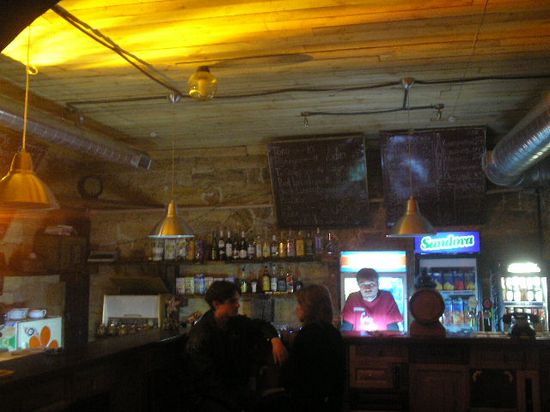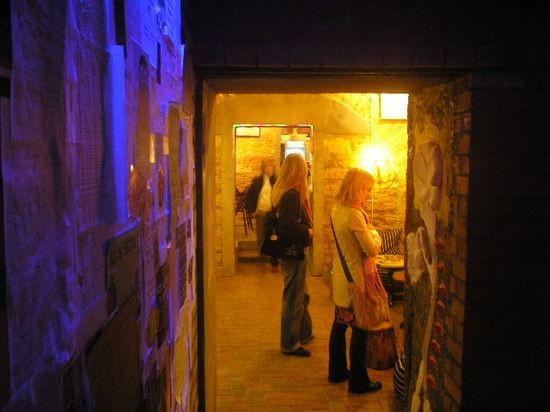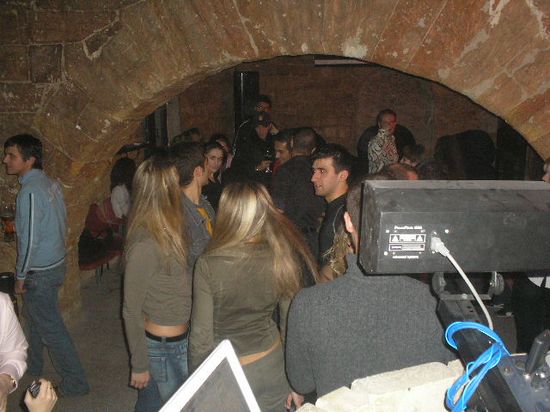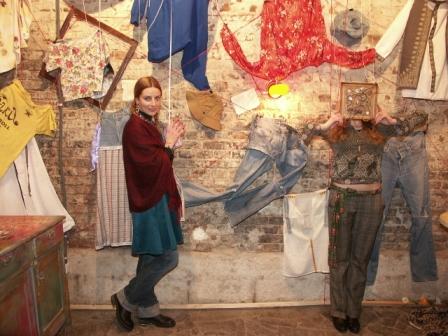 EURO PARTY CLUB / Entertainment Complex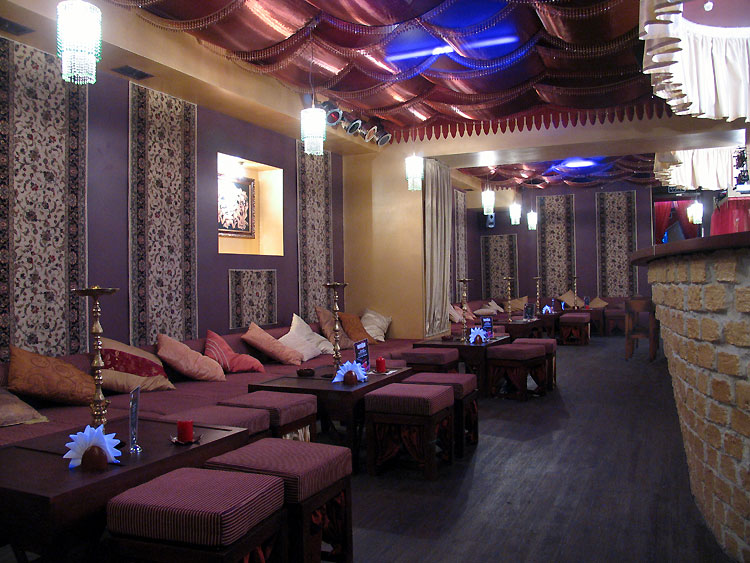 The Scene
EURO Party Club isn't just another watering hole in Odessa's center. It is a mega-club / lounge / hookah bar / entertainment center and a host to high profile parties. Therefore, the doormen can be super serious and you should dress trendy and hip to assure getting in. This brand new club consists of a number of separate areas, each providing its own flavor to fulfill whatever desires you may get throughout the night. The Euro Party Club entertainment center is home to an array of different places. The first and main one is the "Bounty" dance floor, which is the club's primary dance floor with capacity for over 400 featuring state of the art sound and lights. There you can bump and grind with Odessa's elite and trendy along with all of the visitors that Odessa has to offer. The dance floor is complete with strippers. The VIP section wraps around the dance floor, there you can secure either a VIP spot in the open or opt for a closed 'cabinet' VIP area. This isn't the place to be cheap. VIP service comes at a price varying depending on the DJ of the evening. Different DJs, some of very high standards come here very Friday and Saturday to spin some of the latest and greatest Euro Pop and House music has to offer. Make sure to come relaxed as you will likely leave tired from all the dancing you will be doing. Among other things, this Odessa nightclub includes "Love Cafe" which can fit over 200 people, with operating daily hours of 9am to 1am. During the evening hours make sure to check out the rotating DJs who spin to the crowd modern favorites. During Friday and Saturday night, the Love Cafe portion of the club also becomes an additional dance floor expanding the already enormous space even further. The cafe also has a 'glass bridge' inside the club and will occasionally host fashion parties, with models included! Now there is a reason along to visit this place. The large bar area allow for bartenders to entertain patrons with tricks galore. Euro Club's space is also home to a new restaurant - "Balalaika" which operates daily from 9am until 1am and has a wonderful outdoor seating area which is open during the warm months. Main dishes are cooked right in front of customers, as some of the ovens and grills are located in the center of the restaurant for everyone to see! Odessa's Euro Club is also home to the city's first true Hookah Bar, serving water pipes of various sizes along with a variety of sweet tobacco to go with it. This space's comfy interior assures long hours spent here after dancing relentlessly in one of the other Euro club's areas. The space is called "Shisha Bar" and operates daily. If you are lucky, you may even catch a live belly dance performance. If you don't, don't get upset as you can compensate with simply getting yourself a tasty Middle Eastern treat. So what else can this complex offer that has not been already done before? The answer is "Nostalgia" and if you guessed that this is the place where they play Disco hits of the 80s then you have guessed correctly and should proudly reward yourself with a popsicle. This dance floor, with capacity of over 250 is entirely decorated with an 80s theme and spins hits from that era non stop during the club nights. All in all, the complex is able to host up to 2,000 people and will provide you with great entertainment no matter when you come.
Bar/Club Info: corner of Ekaterininskaya / Lanzeronovskaya
Tel: 784-02-03
Hours: 8pm – last customer
Payment:
Atmospheres:
Late Night
Specialty Cocktails
Touristy
Beautiful People
Dancing
Live Music
Shows
Romantic
Admission: $8
Verdict
This is the breadth of fresh air that Odessa's non summer nightlife needed. This is a 'one stop shopping' for all of your nightlife needs located just one block from Odessa's famous Deribasovskaya Street. Make sure to visit at least once.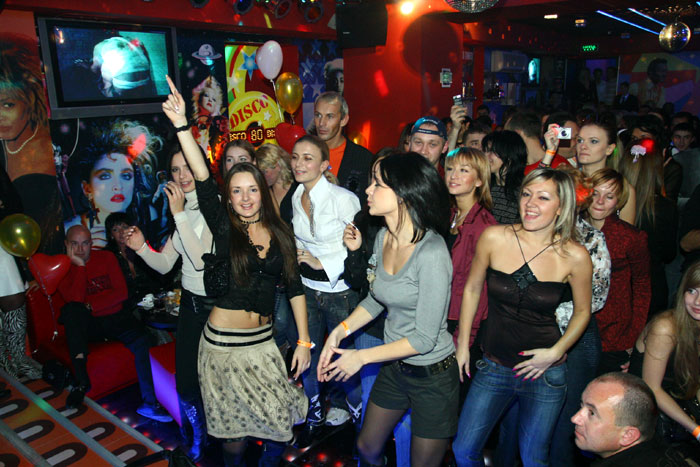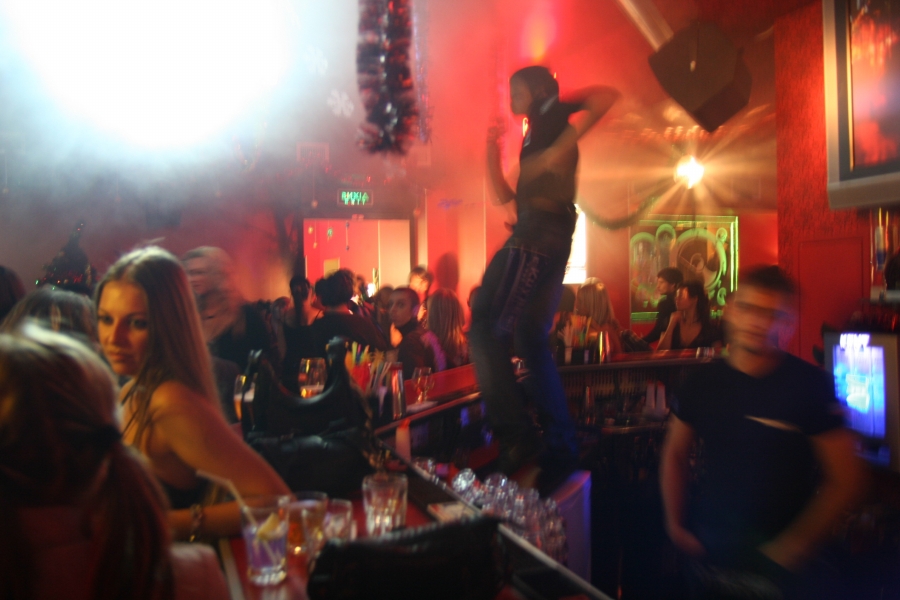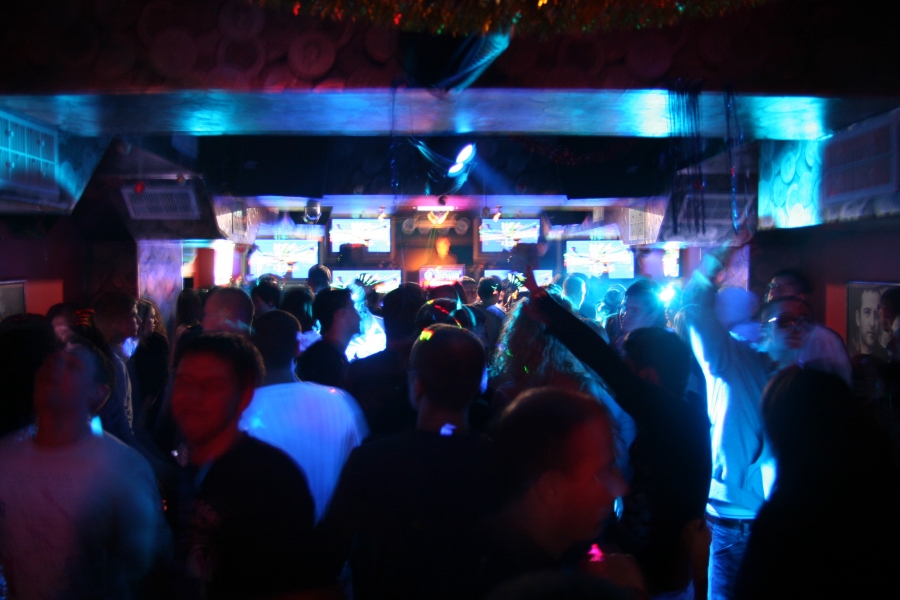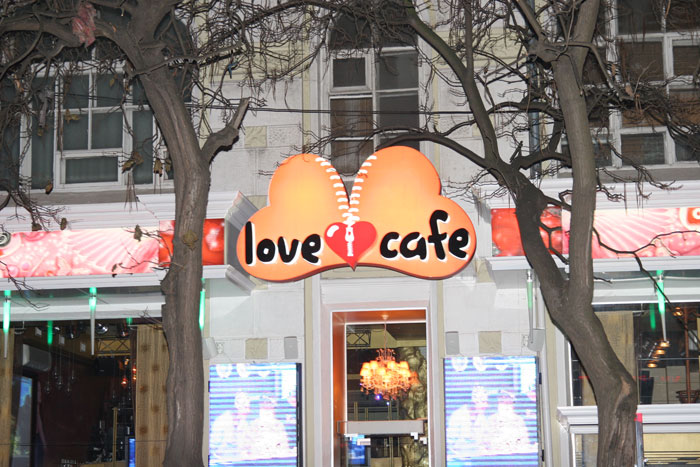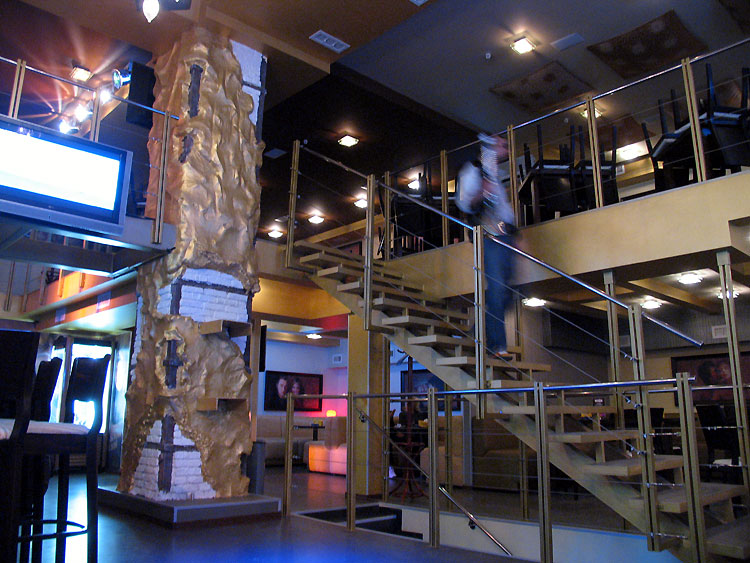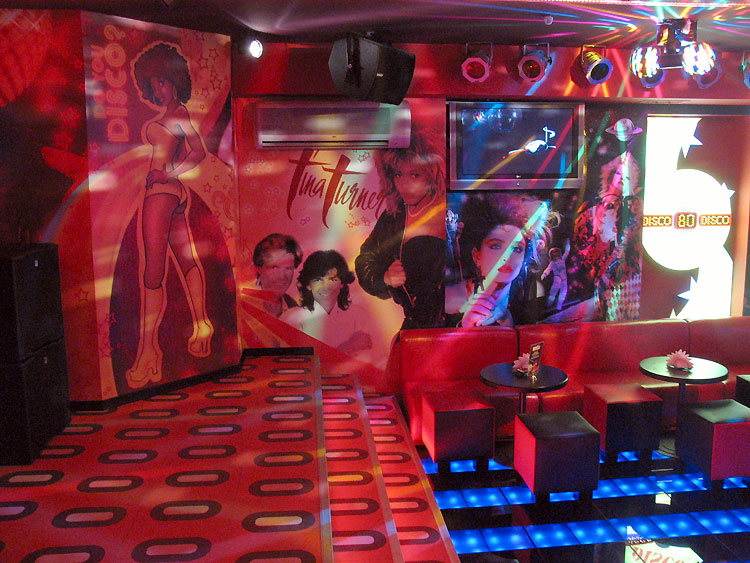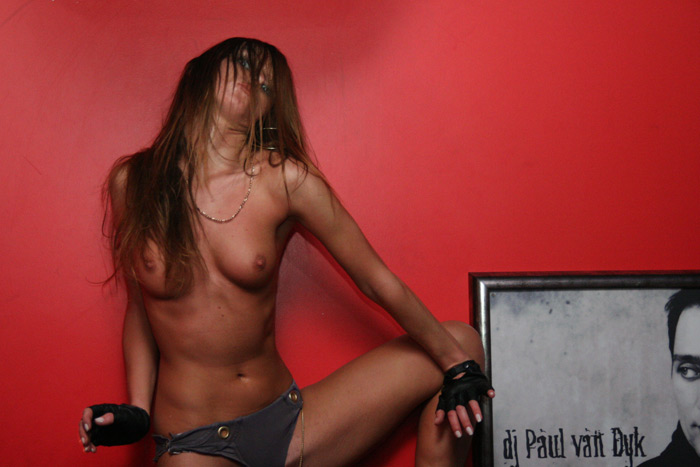 The Scene
Viva la revolution in this cool lounge/club/restaurant that feels like it was yanked out of downtown Havana and dropped in the middle of Odessa. Fidel functions like a popular restaurant during the day but turns into a small but flavorful Latin nightclub at night. Out of the ordinary, on most nights if features sound of a live band or pop performances by South American inspired artists. Authenticity is brought to this place via its tasteful and well thought out design which is simple but effective. Everything here has a Latin feel to it including the bar's specialty fusion drinks. This is one of those places that you had probably walked by dozens of times and never realized just how good it was, until now.
Bar/Club Info: 23 Deribasvkaya
Tel: 22-71-16
Hours: 9pm – Last.
Payment: Cash Only
Atmospheres:
Late Night Scene
Specialty Cocktails
Touristy
Live Music
Admission: Free
Verdict
Convenient location, great food and music make this a perfect spot for any evening in Odessa.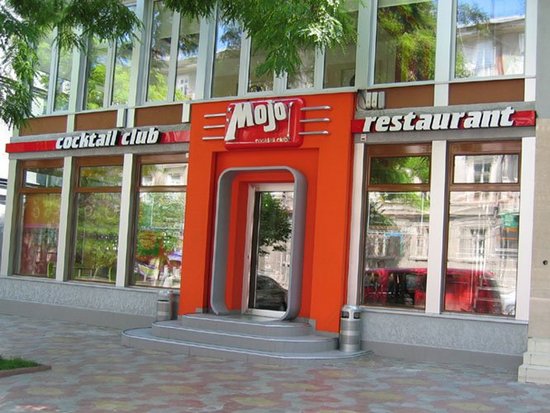 The Scene
This new Odessa hangout feels more like an Austin Powers movie set than a trendy nightclub, lounge, restaurant and cafe all rolled into one. Two spacious levels offer its many patrons a variety of things to do; impressive food menu as well as exotic cocktails are some of the more popular items. If your heart desires, you can also sit in a chair swing while ordering a sweet tobacco Hookah. Great place for either having a large company, or just one on one date. Music is soft and cocktail waitresses look like they are Austin Powers extras adding to an already genuine experience.
Bar/Club Info: 7 Gavannaya
Tel: 33-00-36
Hours: 9pm – Last.
Payment: Cash Only
Atmospheres:
Late Night Scene
Specialty Cocktails
Admission: Free
Verdict
Central location, great drinks and food make this one of the best nightlife destinations in Odessa.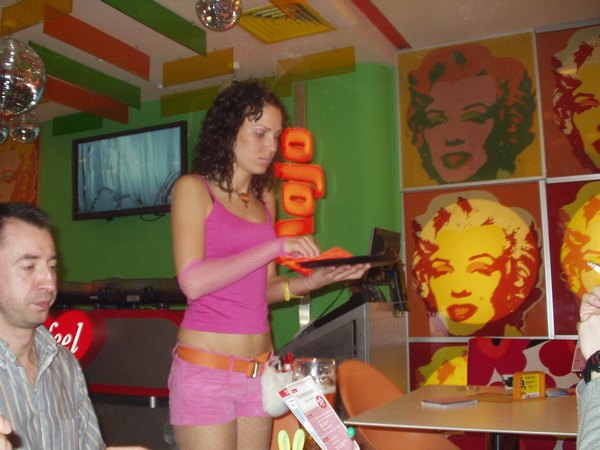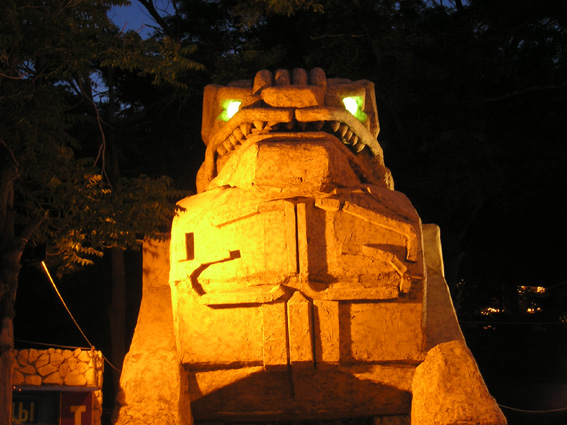 The Scene
Once a hot and happening place, this massive Odesa nightclub still receives respect on the nightlife circuit, however, it does not draw the crowd nor the vibe of such counterparts as Ibiza or Itaka. Designed like a Mexican pyramid ruin of massive scale this Odessa nightclub boasts two dance floors. Pago sits on a small hill, well camouflaged from Odessa's onlookers by massive trees. Not to worry, you will not miss its entrance as it is marked by a huge Aztec-uesque statute. Both of Pago's dance floors are outdoors, with each playing different genres of music at any point of the night. This may be the only advantage Pago has over the other clubs in Odessa's Arkadia. Usually, while one DJ spins your usual dose of Pop or Euro house, the other will play slow oldies– perfect for end of the night seduction while slow dancing. Seldom that this Odessa nightclub is packed, therefore if you are looking for space this may be your spot on Arkadia's strip. Few tourists are found here while some locals swear by Pago's charm.
Bar/Club Info: Arkadia
Tel: 715-3830
Hours: 9pm – Last Cust.
Payment: Cash Only
Atmospheres:
Late Night Scene
Specialty Cocktails
Dancing
Admission: $4
Verdict
While Pago has its charm it is simply not enough to create the vibe and energy that some of its Odessa Arkadia competitors offer.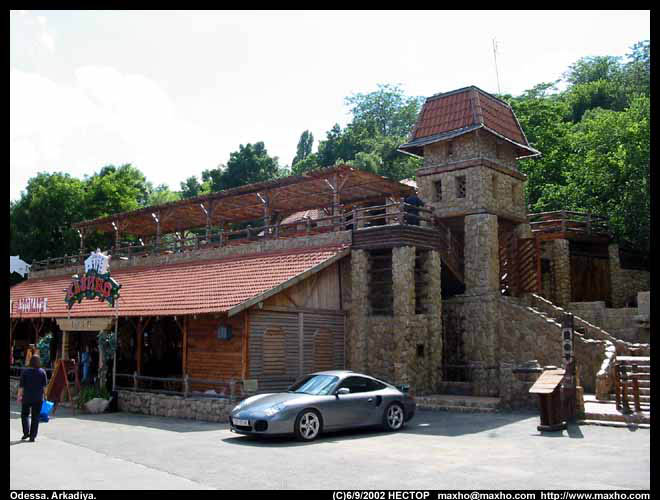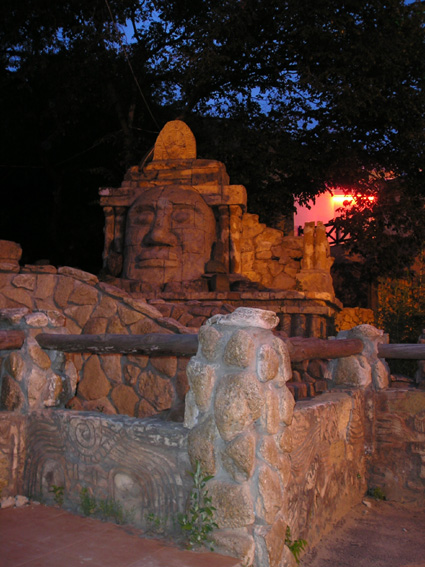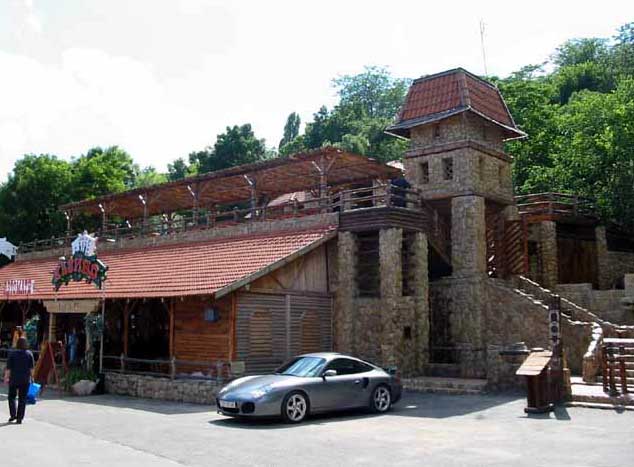 The Scene
Palladium is hands down the best off season club Odessa has to offer. It is a sister club of Itaka and takes over its scene and customers once the summer days are gone. Palladium is centrally located in a newly renovated building not far from the Train Station. It interiors feature multiple levels, funky wall and furniture colors, multiple bars and one massive dance floor. It also serves as performance stage for many national Pop stars who visit Odessa in the Winter months. Palladium opens at 11am daily, but functions as a restraurant until 9pm. Around 11pm a nightly show begings that is among the best in town. Expect to see many beautiful people here – all dancing to the sounds of resident and revolving DJs. Sound here is usually Euro Pop and Euro House. charm.
Bar/Club Info: 4 Italian Blvd
Tel: 728-6566
Hours: 11am – Last Cust.
Payment: Cash Only
Atmospheres:
Late Night Scene
Specialty Cocktails
Dancing
Show
Striptease
Admission: $4
Verdict
The service, décor and music make Palladium a must visit for any tourist looking to unwind in a hassle free atmosphere.
The Scene
This centrally located spacious club is known for its 80s hits nights. The disco hits starts rolling every evening around 9pm and go on into the early morning hours. Occasionally the club can feature a live band and is also available for private event rentals. Admission varies from $4 to $6 but the ladies are always free if arriving before midnight, assuring a favorable male to female ration. Allows for compact dance floor along with private seating area. The drinks prices are standard, varying from $2 to $6.
Bar/Club Info: 26 Lanzeronovskaya Street
Tel: 726-6484
Hours: 9pm – Last Cust.
Payment: Cash Only
Atmospheres:
Late Night Scene
Specialty Cocktails
Dancing
Live Music
Admission: $6
Verdict
This is a great option for starting out the night given its central proximity (next to city garden) or if you like 80s music you can't go wrong.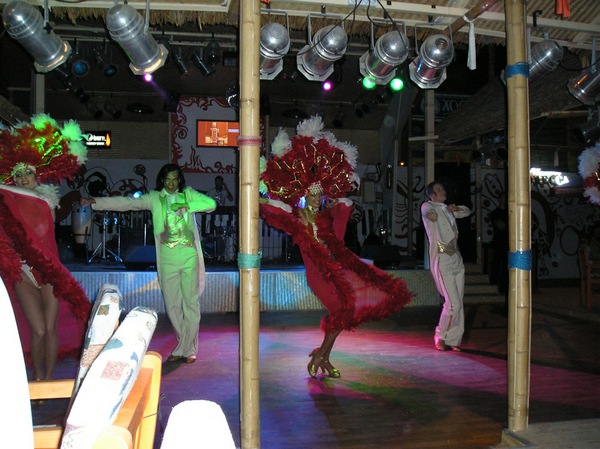 The Scene
One of Odessas elite beaches also serves as a open air nightclub at nights, located directly on the beach. With torches, palm trees, sand under your feet and the sky as your roof, it doesn't get much better than this. Much depends on the DJ which can either pack the place or keep it fairly empty, either way it can be a great place to explore if you want to a break from the Arkadia scene during the summer. Sure it's the beach, but dress to impress when coming for a night out, or you might not get in. While the club has limited hours of operation, the restaurant is open daily. Some nights feature Russian pop stars or local band performances so make sure you know what is on the schedule if you can before you visit.
Bar/Club Info: 13th Fontana
Tel: 716-4432
Hours: 9pm – Last Cust.
Payment: Cash Only
Atmospheres:
Late Night Scene
Specialty Cocktails
Dancing
Live Music
Admission: $3
Verdict
Depending on the evening, can be either packed or totally empty. Either way, this is a great way to spend an evening with a date since if the club is empty you can always just take a walk along the water and indulge in other more adventurous activities.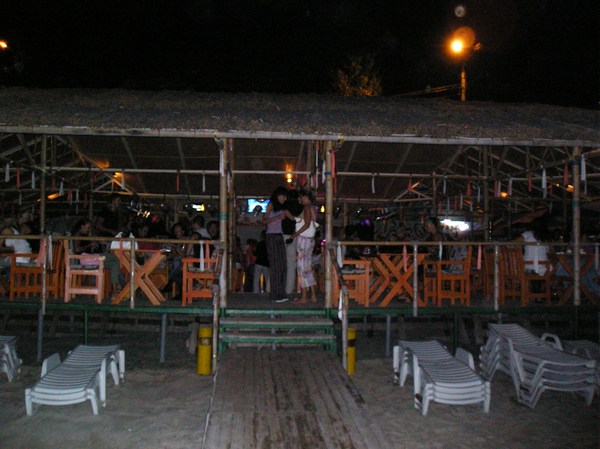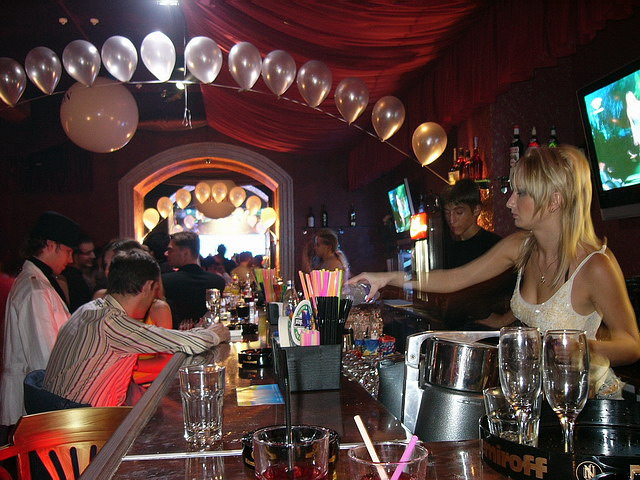 The Scene
What began as just a fairy tale and blazed through into reality has finally surfaced in Odessa Ukraine - where else? Hottest and brand new club Odessa has to offer and it's no mirage, though the 2-floor maze of staircases does conjure a mystical temple in the tropics----with numerous bards, multiple dance floors and mosaic-mirror hand symbols warding off evil. Pairs of bikinied go-go dancers get steamy in red-lit, while clubbers become carnal beside a shattering sound system that blares beats from top international DJs. Finagle your way into Odessa's Skazka, the exclusive lounge and dance floor on the top level--though only select VIPs with the club's "passport" card are guaranteed access. The sprawling club has reserved tables area--in dance floor-side boxes and on the overlooking mezzanine. State of the art sound system blazes beats from world renowned DJs making their rounds through Odessa circuit. Make sure to look your best if you want to get smoothly through the goons at the door but once inside, have a cocktail and enjoy amazing vibes, people and music.
Bar/Club Info: Grecheskaya 25
Tel: 34-36-96
Hours: 9pm – Last Cust.
Payment:
Atmospheres:
Late Night Scene
Specialty Cocktails
Face Control
Dancing
Admission: $8-$12
Verdict
Brand new and most exclusive nightclub in Odessa Ukraine did not dissapoint - come prepared to dance and just enjoy the moment.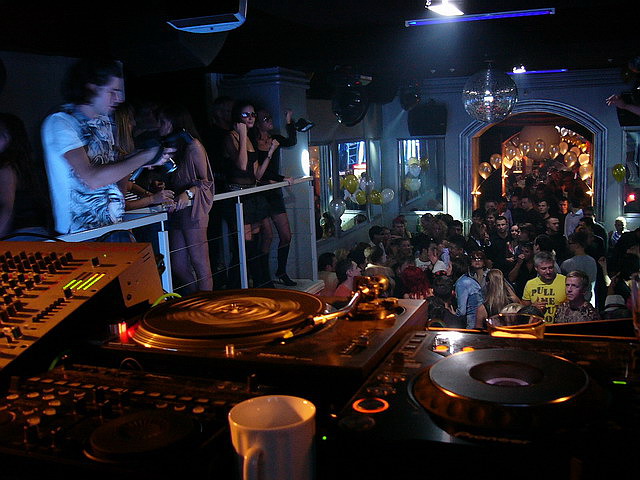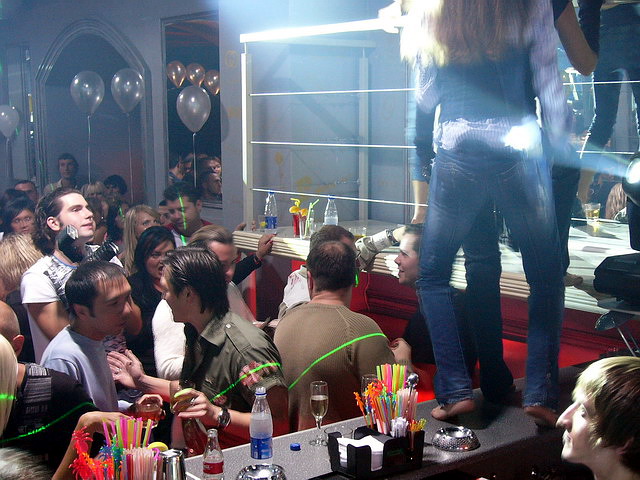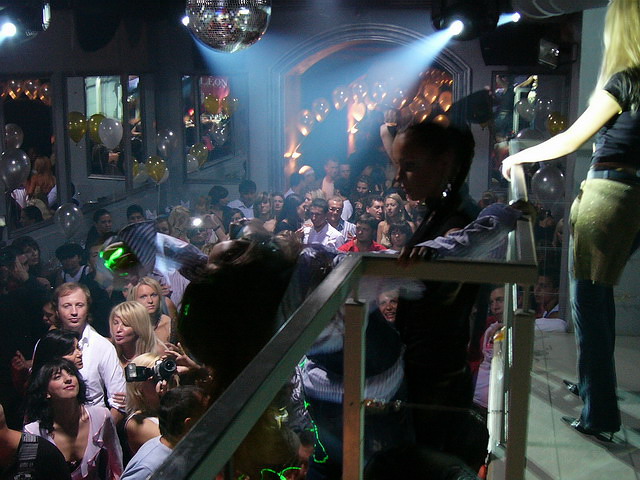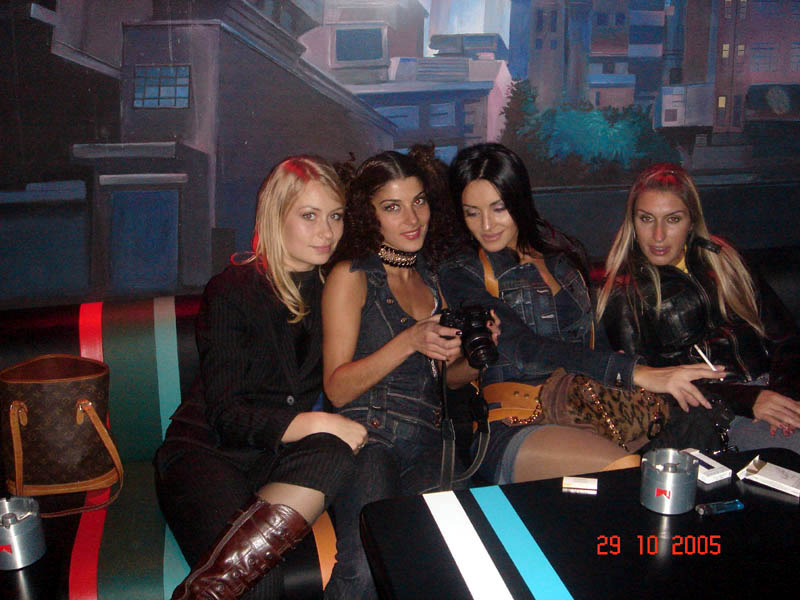 The Scene
Yes, there's a long line. Yes, there's a cover. And yes, it's crowded. But you know what? It's worth it. Odessa Stereo is to mega-clubs what Stalin was to dictators. Located directly in the center of Arkadia (across Ibiza) and another off season location downtown on Bunina Street, it is one of the premier clubs for electronic music and R&B parties in Odessa. If you care about the biggest names in DJs you simply can't NOT hit Stereo on a regular basis while in Odessa. With what feels like lots of square meters, Stereo has something for everyone: hot-n'-heavy dance floor, intimate VIP lounge, underground music, techno, tribal, progressive, R&B Parties, house--you want it you got it. Check the club's website for upcoming events, which are frequents and feature such happenings as Mrs. Stereo, Halloween Fest, R&B Nights (one of a kind in Odessa) and various other unique celebrations. If you are an electronic music enthusiast - this is your place!
Bar/Club Info: Arkadia & 21 Bunina St
Tel: 32-24-23
Hours: 9pm – Last Cust.
Payment: Cash Only
Atmospheres:
Late Night Scene
Specialty Cocktails
Face Control
Dancing
Club People
Top DJs
Admission: $5
Verdict
Various events such as R&B nights and headlining DJs make this a must destination for any music enthusiast while in Odessa.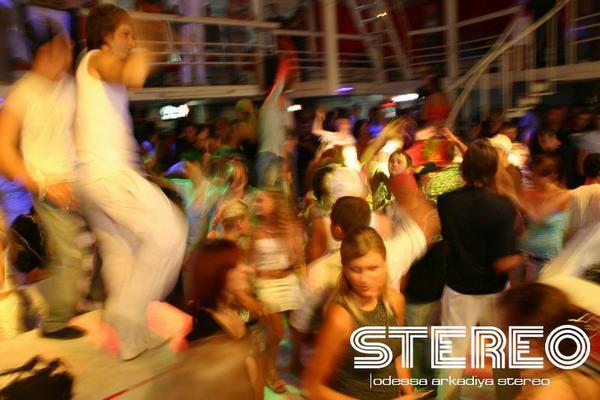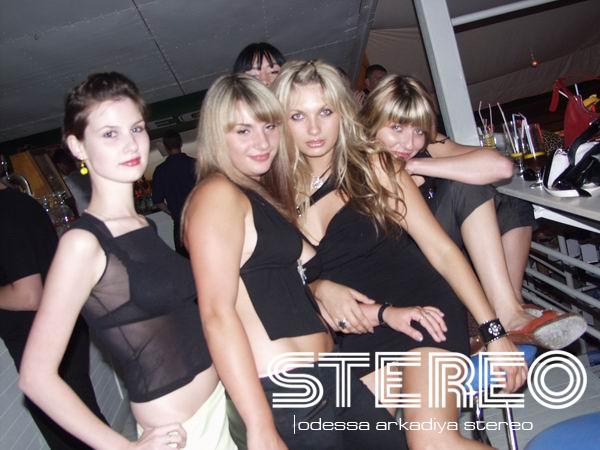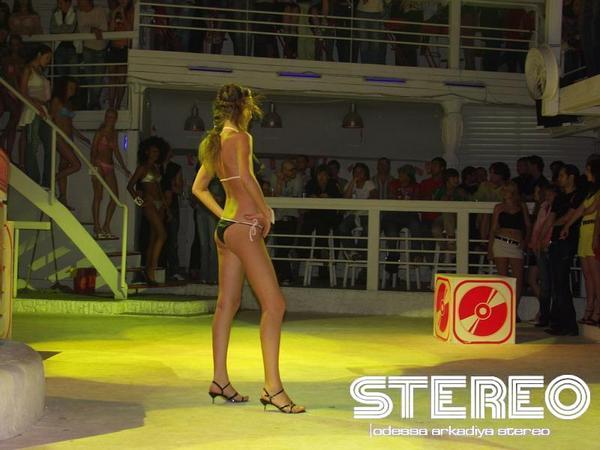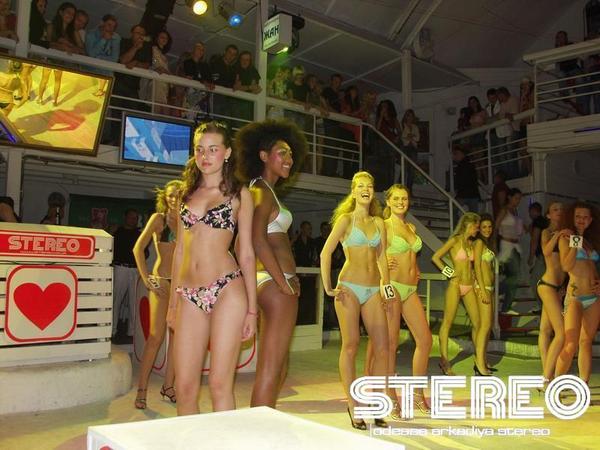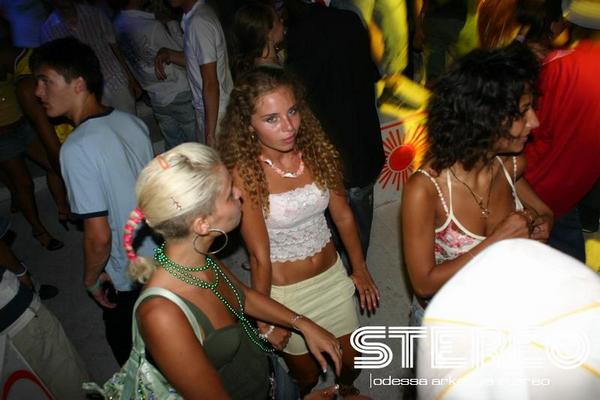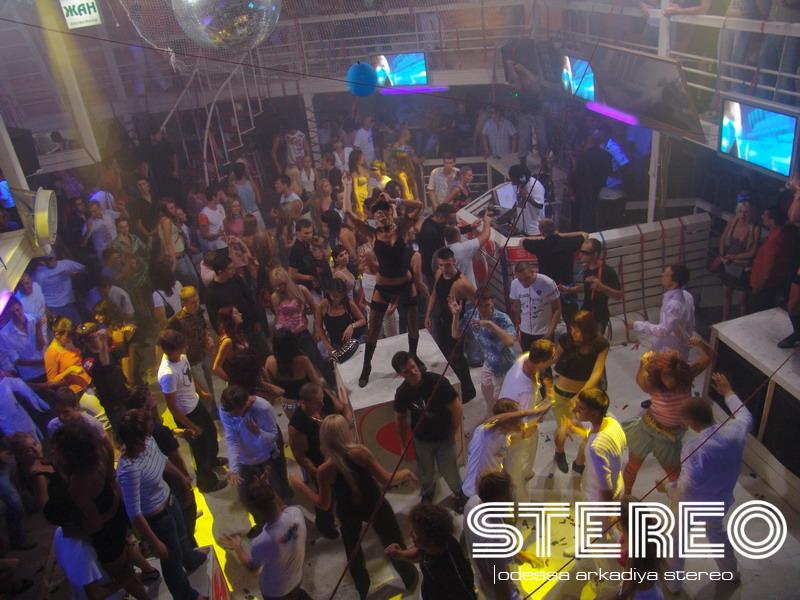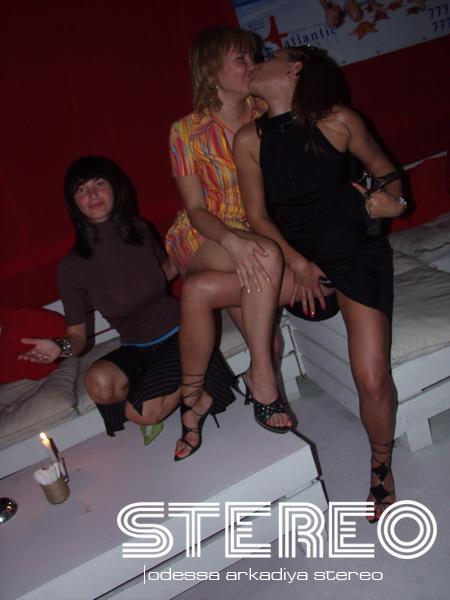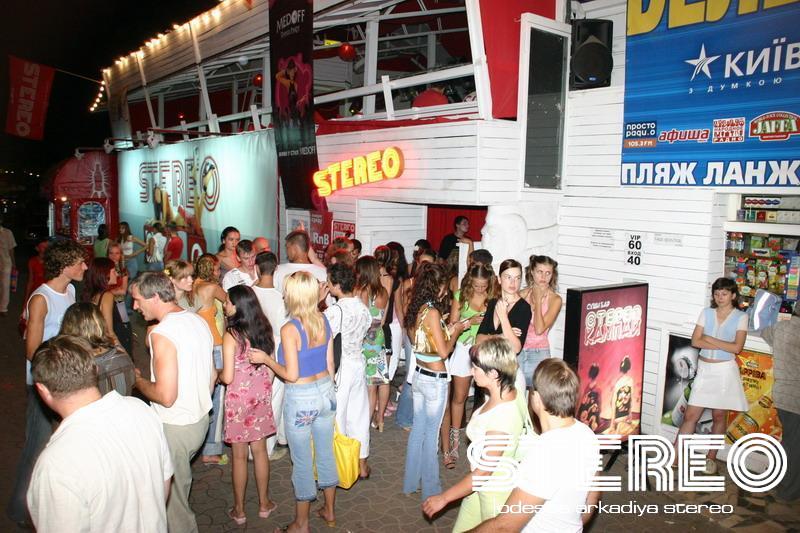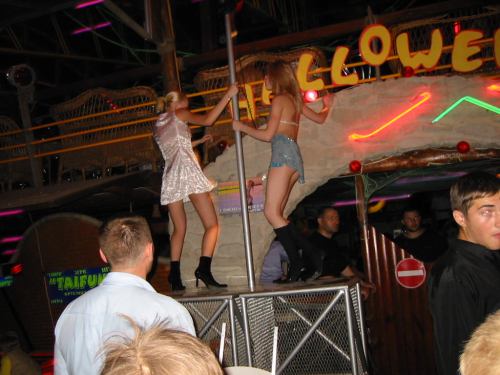 The Scene
By now you haveprobably noticed a trend. In Odessa we've got Mexican Pago, Greek Itaka, Spanish Ibiza and now to complete the international flavor comes the Western Club – you guessed it, American Theme. While the theme is American, don't expect to see any cowboys here, or anything else for that matter that resembles America. What you will see is hundreds of patrons, dancing enthusiastically to loud sound waves of Euro Pop. It is located at the far end of the Arcadia stip. Its entrance marked by two beautiful dancers shaking it for a mob of Odessa spectators every night starting around midnight. Western club is popular with the younger local population. Average age of guest at Odessa 's Western Club is somewhere around 20, even lower for female guests. Given the young age of most patrons, behavior here is often more uninhibited than other clubs. This of course can be a good thing and adds to the overall appeal of Western Club. Service leaves a lot to be desired but the massive round dance floor and its stage offset that con.
Bar/Club Info: Arkadia
Tel: ?
Hours: 9pm – Last Cust.
Payment: Cash Only
Atmospheres:
Late Night Scene
Club People
Young
Specialty Cocktails
Dancing
Admission: $4
Verdict
If you are looking to check out a new place on a summer night in Odessa, Western club may just be the answer. What its crowd lacks in age, it more than makes up for it with its energy.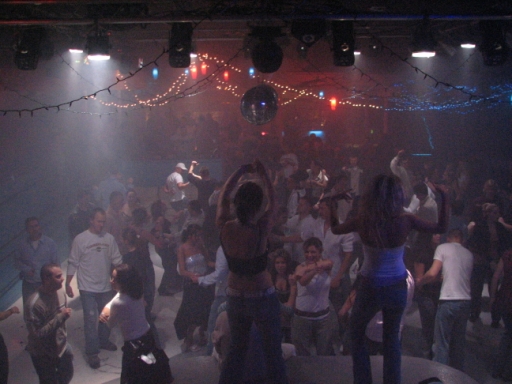 Vechernaya Odessa (Evening Odessa)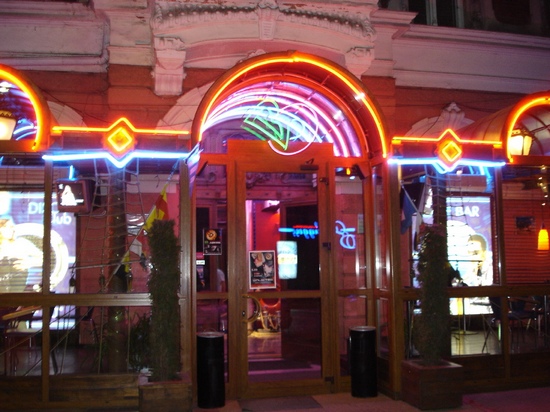 The Scene
Located in the center of Odessa Ukaine, this club boasts impressive interiors, relaxed atmosphere and space for banquets. Enjoy a specialty cocktail in Odessa, while staring at a soccer game on this club's numerous TV screens. Day hours can be reserved for lunch occasions. All in all, this place still draws good crowds, specifically in the winter months. Expect to hear mostly commercial Pop at this Odessa nigthclub.
Bar/Club Info: 59 Pushkinskaya
Tel: 21-74-12
Hours: 10am – 6am
Payment: Cash Only
Atmospheres:
Late Night Scene
Bars
Specialty Cocktails
Romantic
Laid Back
Admission: Free
Verdict
If you are looking for a 'loungy' feel in a club, this may be your best bet in Odessa.
VISAVIS (Restaraunt, Lounge, Club, Casino)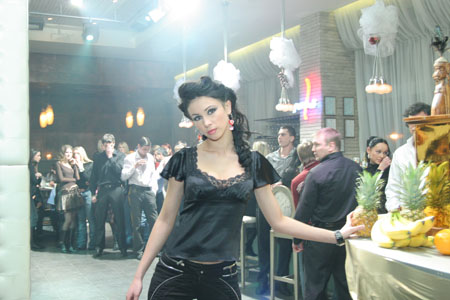 The Scene
This brand new club / restaurant, lounge and casino is located in the heart of Odessa - right on Deribasovskaya street. Odessa nightlife has not seen this type of club yet, and it resembles something likely found in downtown scene of New York City. The lounge space is both elegant and stylish and caters to an upscale, well established clientele. Most patrons here tend to be on the older side, but occasional weekend parties bring in crowds of youngsters as well. Make sure the check their schedule to see which parties they have in store. DJs, mostly from Russia come here to play their rounds but occasional pop stars and other live performances may make an appearance. Make sure to look your best as the door staff may hassle anyone not fitting 'the part' for this ultra stylish club. Aside form the club, Odessa's Visavis boasts a lounge which has received significant attention given its original design and relaxed vibes given its chill music which includes not only funky jazz, but also latest variations from dub house, deep house, acid jazz and many others. And finally, if you feel lucky you can always roll the dice at the casino portion of Visavis which includes numerous machines and tables allowing you to play Roulette, Poker or Blackjack. Additionally, some Casino nights allow for ultra extravagant prizes such as Cars and vacations to the Mediterranean. Check the Casino schedule for more details
Bar/Club Info: 17 Deribasovskaya St
Tel: 777-02-03
Hours: 12pm– 6am
Payment:
Atmospheres:
Late Night Scene
Bars
Beautiful People
Casino
Stylish
Specialty Cocktails
Romantic
Laid Back
Admission: ~$12
Verdict
Visavis is a new and unique establishment in Odessa's center and requires a visit for anyone looking to impress a date or spend a relaxing evening with their friends.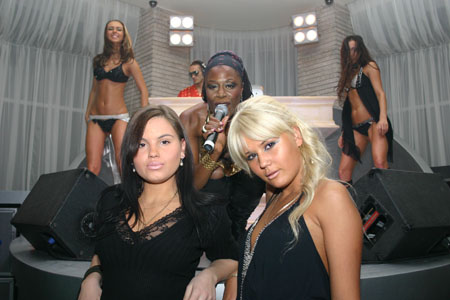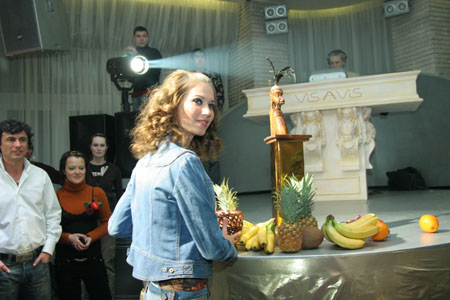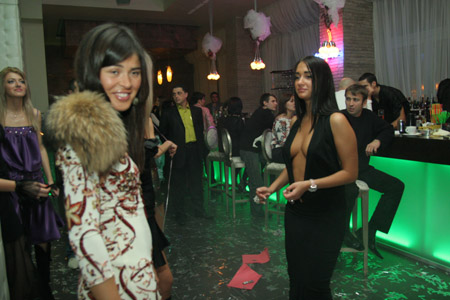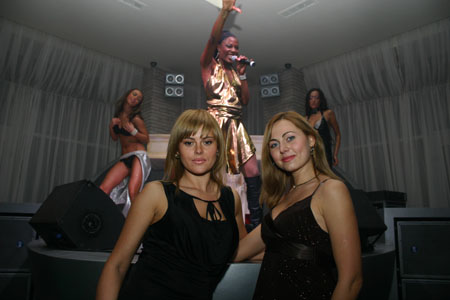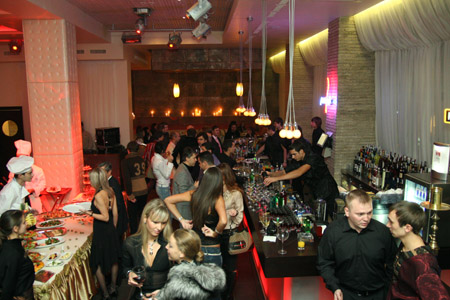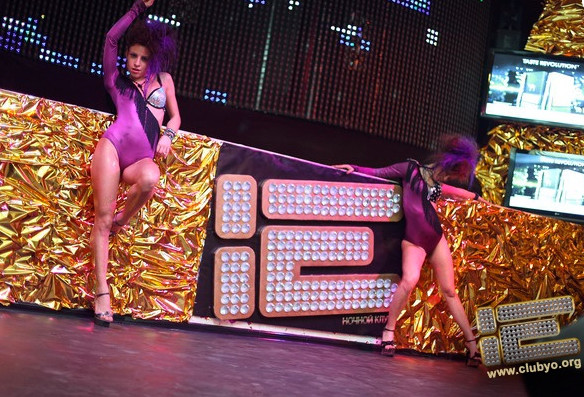 The Scene
Yo is a massive, 'off' season club in Odessa (seasons other than summer) that still ranks among the best despite its long existence. The interiors of this Odessa nightclub look polished and ultra modern. Get here early if you want to bowl or play billiards, and remember; the influence of alcohol can significantly impair your playing abilities! Note that Wednesdays are jazz nights, with excellent live performances. Also available for your enjoyment is a sushi bar and a strip club - I apologize for using those two in the same sentence. If gambling is your vice, give luck a try at the slots or table games available for your entertainment in Odessa. Expect to see a colorful bunch of people in this Odessa nightclub. Girls are always aplenty, as well as a large number of tourists hoping to attract their attention. While you dance, the DJ will spin Euro house but other genres are available upon request along with a 20hr note.
Bar/Club Info: 15 Polskiy Spusk
Tel: 37-15-15
Hours: 9pm – Last Cust.
Payment:
Atmospheres:
Late Night Scene
Club People
Specialty Cocktails
Touristy
Dancing
Bowling
Sushi
Strip
Casino
Admission: $5
Verdict
Along with Odessa's Amsterdam, this club is a must visit for anyone visiting Odessa outside of the summer season.

The Scene
One stage and relatively small seating area create a more personal experience at this Odessa strip bar. Erotic yet sensual, this nude Odessa bar caters to various clientele in desire to see Odessa's best looking girls. Drinks are relatively expensive and bottles may remind you of western prices. Yet if looking to unwind in a setting of private and sensual striptease may be the perfect option for both men and women at this establishment.
Bar/Club Info: 25 Chapaevsksay Divizia St
Tel: 37-40-59
Hours: 8pm – Last Cust.
Payment:
Atmospheres:
Late Night Scene
Striptease
Nude Dancing
Strip
Casino
Admission: $5
Verdict
Among few of Odessa's strip bars this may be the perfect option those with erotic desire.

Zolotoi Duke (Golden Duke)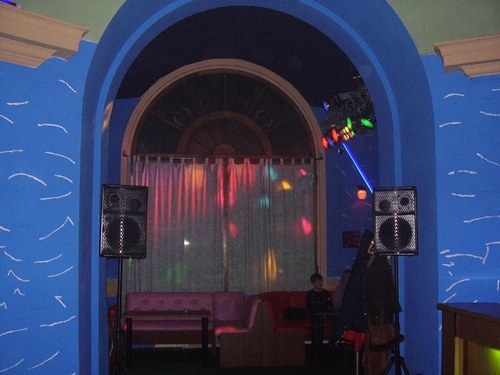 The Scene
Zolotoi Duke (Golden Duke) is located in the very center of Odessa, along the side of one of its most prized possessions - The Potemkin steps and statue of Duke Richelieu. The space features large area for billiards, one of many in Odessa, as well as a modest sized dance floor. The billiards area features four Russian regulation size tables and one American. For those who do not know, Russian billiards uses a larger table with smaller side pockets, effectively making Billiards a much more difficult game then in the West. Also, the Duke features two stages on which live bands perform almost nightly. Check the schedule to see the genre of the bands that perform, which range from Rock 'N Roll to Blues. Surprisingly, some amazing talent can be found here. Entrance is free, except for the performance nights when it is $2.
Bar/Club Info: 9 Primorskiy Boulevard
Tel: 37-40-59
Hours: 4pm – Last Cust.
Payment: Cash Only
Atmospheres:
Late Night Scene
Live Music
Billiards
Coktails
Admission: $2
Verdict
Absolute central Odessa location makes this a great spot for anyone with a billiards and live music craving.